Amazing Facts You Need to Know About PVC Pipes
Tackling a plumbing project can be overwhelming, especially when you start to shop for piping and realize all of the different options available for you. Plumbing pipes for residential and commercial buildings are available in a wide range of materials like PVC, Copper, Iron, Steel, etc. and every material has its own specifications. 
Therefore, it's important to understand all the pipe varieties within the market before making an investment in plumbing installations. 
 If you're thinking about replacing your plumbing pipes, material selection is important for a variety of reasons, such as cost, durability, environmental impact, and water quality. The foremost commonly used materials are PVC, CPVC, PEX, etc.
Here are some details about the most popular type of plumbing piping and what they are best used for that might make your decision a little easier.
What are PVC pipes?
By far the foremost commonly used pipe in residential homes for main supply lines, drainage pipes, pools, spas, and irrigation piping. polyvinyl chloride (PVC) pipe is the white piping commonly utilized in plumbing applications. Affordable and versatile with a number of different fittings and sizes available, PVC is great for too hot and cold water applications.
PVC works well for home plumbing piping needs because it doesn't rust or corrode over time. This suggests it'll not get replaced until it's actually damaged and starts leaking. it's also easy to figure with, because it requires no welding or metalwork, and is a cheap option for your home. PVC is sort of strong and sturdy and does not bend overpressure, making it the piping solution of choice for high-pressure applications. One of the good things about PVC is that it doesn't rust or corrode over time. It's also fairly inexpensive and simple to repair or replace.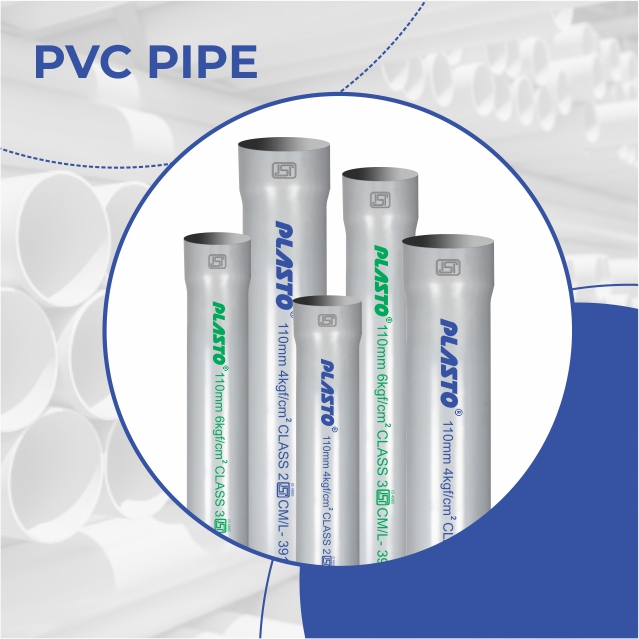 PVC comes in two sizes, called "schedules." Schedule 40 is that the typically used PVC type. Schedule 80 features a slightly thicker wall. ANSI nominal pipe size table specifies the surface diameters of all schedules for a given pipe size to be equal and therefore the inside diameter will vary consistent with wall thickness. Schedule 80 is slightly stronger than Schedule 40.
What are the benefits of PVC Pipes?
PVC pipe is a product of modern technology that gives reliable and durable service to a variety of users including plumbers, contractors, engineers, operators, industries, utilities, and irrigation districts. A number of performance advantages mean PVC Pipes now replace many traditional materials.
Lightweight pipes
PVC Pipes offer a lightweight advantage over alternative piping materials. The comparatively low weight of PVC Piping means installers are less likely to get injured, and while it's going to take a team of workers or mechanical hoists to hold an outsized section of metal pipe. PVC Pipes are so light weighted that one person could easily move a long piece. 
This means fewer installers are required and those hired can get the piping installed comparatively faster than iron or steel. Less weight also means cheaper transport because the bulk of transport companies charge by weight.
Gives flexibility
PVC Pipe's resistance to fracture is a particularly important performance advantage. These pipes are made up of rigid PVC compounds. The Pipe itself has the power to yield under loading without fracturing. PVC Pipes can successfully be used where the surface is going to be subject to external loading like road traffic.
The modulus of elasticity of PVC Pipes may be a major advantage for buried applications, particularly where soil movement or vibration is anticipated. In pressure applications, PVC's modulus of elasticity also reduces the magnitude of pressure surges i.e. water hammer. PVC-O Pipes has a higher resistance to bang than all other pressure pipe types.
Watertight joints
A major requirement for all piping applications is joint tightness. PVC Pipes are available with deep insertion, push-together gasketed, or solvent cement joints. Gasketed PVC Pipe Joints have consistently outperformed those of traditional pipe products in actual service. PVC Pipes also are now available with Fusion Joints to supply a monolithic fully sealed pipeline particularly fitted to trenchless installations and contaminated sites.
Coefficient of friction
When piping systems are designed one of the most concerns is flow and pressure. PVC Pipes provide smoother wall surfaces that reduce fluid friction and resistance to flow.
This hydraulic smoothness inhibits slime build-up in sewers and virtually eliminates tuberculation and encrustation in water distribution mains. The top results are significantly lower maintenance costs, more efficient initial pipeline design, and superior performance over the lifetime of the PVC pipe.
Food-grade material
PVC pipe is a non-toxic and safe material that has been used for quite half a century. it's also the world's most researched and tested plastic.
Longer lengths
PVC pipe is usually supplied in lengths of 6m, however is often supplied in other lengths as needed. This reduces the number of joints required as compared with other pipe products.
Fewer joints leave the faster and more efficient installation, less hydraulic friction, and fewer opportunities for leakage.
Flame resistance
PVC Pipe is difficult to ignite and can not continue burning within the absence of an external ignition source.
Is PVC pipe safe for drinking water?
PVC and CPVC pipes are both designed to face up to damage from virtually all corrosive chemicals and gases. Due to this, they need no problem transporting water over long distances & periods of time. Some people with new piping monitor water having a slightly plastic taste, but this taste isn't harmful and typically disappears quickly. Using a CPVC pipe for drinking water doesn't cause a health risk!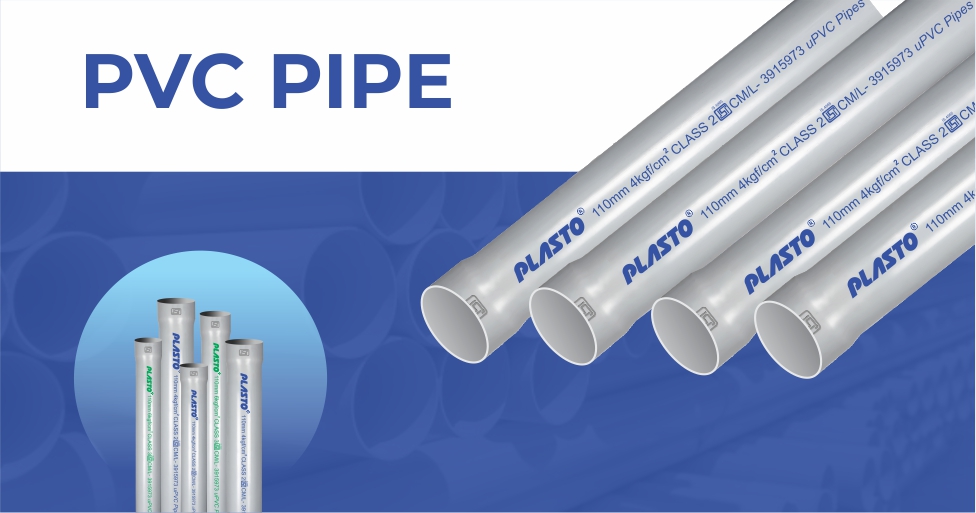 One possible issue with using PVC or CPVC for drinking water is cleanliness. All pipes transporting potable water should be cleaned thoroughly before installation. This is often as true with PVC because it is with the other sort of pipe. Dust can collect on the inside of pipes while they're in storage or being transported, so a good, thorough clean is important if they're going to be carrying drinking water.
How long does the PVC pipe last?
PVC piping was first introduced as an alternative to traditional household plumbing materials within the 1960s, and it quickly became the piping material of choice for water system lines. Because PVC has only been commonly used for a long life of span, estimates of their natural lifespan are still debated. Estimates of their natural lifespan are still debated, however, many professionals believe that PVC piping could also be as durable as forged iron, remaining viable for a minimum of a century.
What do we have?
If you are looking to replace, repair, or build a new plumbing system, R C Plasto can help you. We have a wide range of PVC pipes for your every plumbing need. We will help you make the right choice when it comes to choosing the appropriate plumbing pipe for your home/office.
R C Plasto Tanks and Pipes Pvt. Ltd. provides you with high-quality tanks, pipes including other plastic products, tailored to fit your unique needs with some of the most competitive rates in India. We are proud to mention that we guide other nearby dealers to create our delivery chain. While you buy a plasto product you're helping Indian owned groups making Indian-made products and giving ordinary human beings such as you and us a wish for activity security.