Importance Of Different Agriculture Pipes For Water Supply
Agriculture provides the primary source of livelihood for 58% of the Indian population. A properly functioning agriculture sector is dependent on equipment and infrastructure, which includes an important component, 'Agriculture Pipe and Fitting'.
Farmers rely on these fixtures to transport water to their farms. In the past, these fittings were made from metal or low-grade plastic, both of which caused a variety of problems.
Nowadays, agricultural water pipe manufacturers are switching to either PVC pipe and fittings or HDPE fittings, which are more efficient.
Other pipes used for Agriculture purposes are PVC Pipes, UPVC Pipes, HDPE Sprinkler Pipe, PVC Garden Pipe, Rain Pipe, LDPE Pipe, Lateral Pipe, Agricultural HDPE Pipe, HDPE Coil Pipe.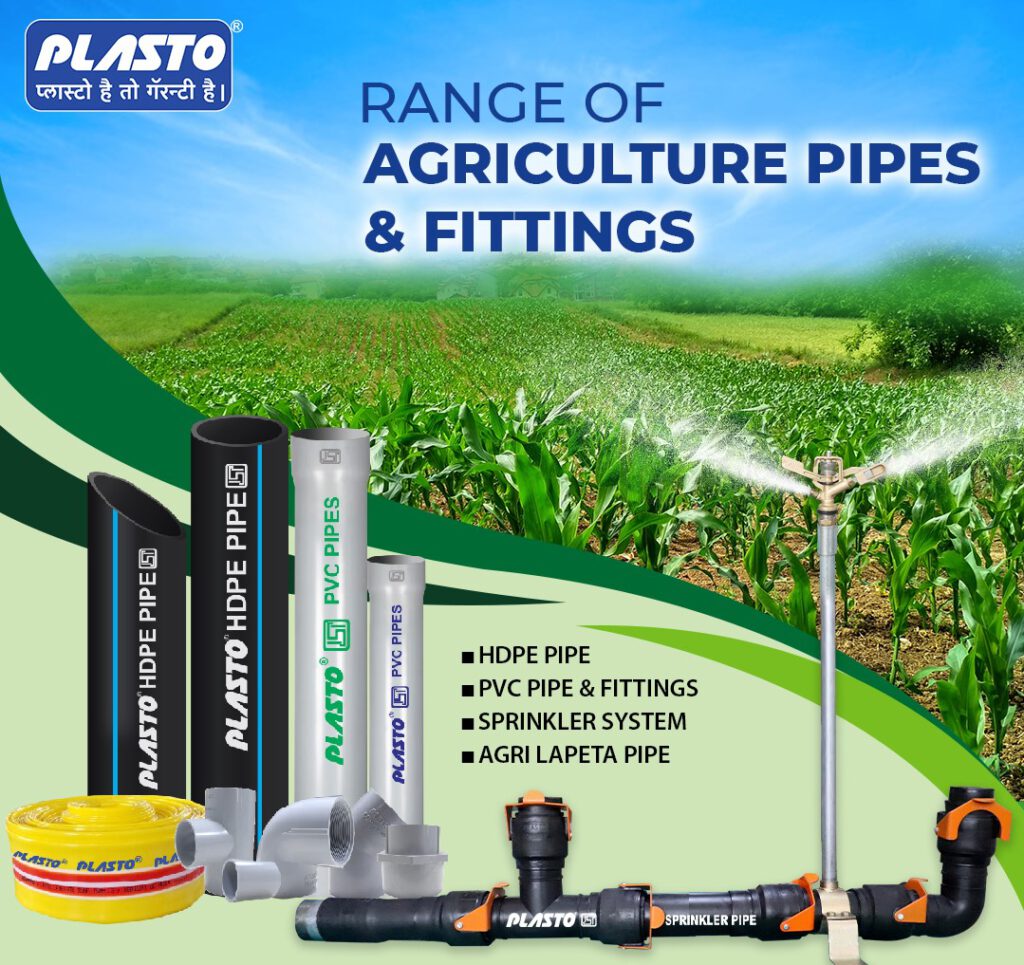 Usual Materials In Irrigation Pipes Are:
Polyvinyl chloride (PVC):
PVC is a rigid, non-flexible piping. The pipe is commonly used in primary and secondary networks, but it can also be used as a tertiary pipe. They are made with two types of joints, glue and gasket. 
It is tougher than PE (Polyethylene) to withstand stresses caused by the flowing water, but it has a bad shock-absorbing property. It's usually buried to prevent accidental breakage and damage from ultraviolet radiation.
Poly: Poly stands for high-density polyethylene, or HDPE. Other applications for this pipe include irrigation and conduit. Despite its flexibility, poly has a high level of strength suitable for residential irrigation systems.
There Are Two Types Of Poly:
Low-Density Polyethylene (LDPE): Due to their flexibility and lower fragility, they are commonly used for plant sections outdoors.
High-Density Polyethylene (HDPE):
Their stiffness and hardness make them more resistant to extreme temperatures and chemical agents than LDPE.
HDPE and PVC Share Many Common Characteristics As: 
· Lightweight
· Corrosion-proof,
· Resistant to Bacteriological and Chemical Buildup,
· Made of plastic and higher life expectancy compared to other piping (steel, iron, copper).
How Important Are PVC Pipes In Agriculture? 
Agricultural PVC pipes are primarily used for transporting and storing water, as well as for irrigation and hydroponic systems. In fact, a PVC pipe will not become damaged or degrade when exposed to chemicals such as pesticides or fertilizers. 
Plasto provides a variety of agriculture pipes and fittings. Plastic's agricultural PVC water pipes help farmers obtain water from rivers and ponds.
PVC Pipes Are a Popular Choice Because Of Several Important Features:
1. Resilient: The high resistance of PVC pipes makes them an ideal choice for farming under all conditions. They are corrosion-free, water and chemical resistant, unlike metal pipes. As PVC is highly resistant to external crushing, it is suitable for burying agricultural pipes.
 2. Lightweight and Easily Transportable: Transporting PVC pipes is extremely cost effective because they weigh a fraction of metal pipes. The installation and use of PVC pipes are also faster, saving much-needed time and effort.
3. Durable: Pipes made of PVC are durable. It has a long life span, which makes it an excellent choice for agricultural applications. The pipe can last for over 50 years, if properly maintained.
 4. Cost-effective: Compared to metal pipes, agriculture PVC pipes are considerably cheaper. In this way, it's quite economical.
5. Water Conservation: The thickness of pipes along with quality production allows for improved water flow. As a result, precious resources are utilized to the maximum extent possible.
6. Can Be Customized Easily: PVC pipes can be customized very easily. There are numerous types and sizes of fittings available in the market. One can customize it in any way as per their liking or need.
 7. A Leak Proof Product: Due to the pipes' high strength and impact strength, they are resistant to damages during installation that may cause leaks and other issues.
HDPE Pipes
HDPE pipes are flexible plastic pipes which are mainly used by industries such as agriculture and industry to transfer fluids and gases. This is an ideal replacement for old-fashioned concrete and steel pipelines. These are highly impermeable and thus suitable for high-pressure pipelines.
Applications:
HDPE can be used for a variety of purposes. These pipes are used in water and gas mains, sewer mains, rural irrigation, fire system supply lines, and drainage pipes, among others. The flexible and durable pipes can be melted and reformed, making them rugged and flexible.

Why Are They The Perfect Choice For Agricultural And Irrigation Applications?
Resistant: HDPE pipes are exceptionally fatigue-resistant. These pipes excel at handling recurring surges in water flow, as they are more resistant to cracking than plastic pipes. Despite being ductile, these pipes are not rigid.
Less water loss: HDPE pipes have leak-free joints thus, no water loss. Due to the type of joints used in other piping systems, HDPE pipes are highly susceptible to water leakage. The result is permanently leak-proof joints that help us save our most valuable resource.
Easy to Install: HDPE pipes' flexibility and tensile strength make them the perfect choice for trenchless installation. The technology allows them to install under rivers, lakes, ponds, and creeks with little disruption to the public.
Durable: HDPE pipes are highly durable and will not corrode or rust. As a result, they live longer and cost less in the long run. HDPE pipes have a service life ranging from 50 to 100 years, depending on the usage, installation, and design of the project.
PVC Pipe Fittings And HDPE Pipe Fittings Differ In:
Durability: HDPE is a polyethylene thermoplastic derived from petroleum, while PVC is a durable vinyl polymer. The pipes both remain strong at high temperatures. HDPE is more durable when exposed to weather conditions like rain, stress, wind, heat, or cold.
Irrigational Use: PVC pipes are extensively used for irrigation. However, more people prefer HDPE pipes for irrigation systems where digging is hard or impossible. HDPE pipes are ideal for golf-course irrigation.
A well-run agriculture requires the right supply of fittings and pipes. An incorrect set-up can cause problems and cost a lot of money. Make sure you use quality agricultural pipe fitting from reputed agricultural water pipe manufacturers so that your farming practices can make the most of them.