Plasto Introduces Tank Filter in market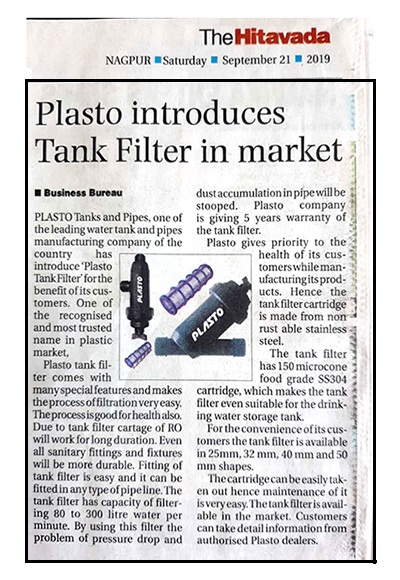 Business Bureau: Plasto Tanks and Pipes, one of the leading water tank and pipes manufacturing companies of the country has introduced 'Plasto Tank Filter' for the benefit of its customers. One of the recognized and most trusted name in plastic
market.
Plasto tank filter comes with many special features and makes the process of filtration very easy. The process is good for health also. Due to tank filter cartage of RO will work for a long duration. Even all sanitary fittings and fixtures will be more durable. Fitting of tank filter is easy and it can be fitted in any type of pipeline. The tank filter has a capacity of filtering 80 to 300-litre water per minute. By using this filter the problem of pressure drop and dust accumulation in the pipe will be stooped. Plasto company is giving 5 years warranty of the tank filter.
Plasto gives priority to the health of its customers while manufacturing its products. Hence the tank filter cartridge is made from non-rustable stainless steel. The tank filter has 150 microcones food grade SS304 cartridge, which makes the tank filter even suitable for the drinking water storage tank.
For the convenience of its customers, the tank filter is available in 25mm, 32 mm, 40 mm and 50mm shapes.
The cartridge can be easily taken out hence maintenance of it is very easy. The tank filter is available in the market. Customers can take detail information from
authorised Plasto dealers.