R C Plasto Launches 'Soft Close Toilet Seat Cover'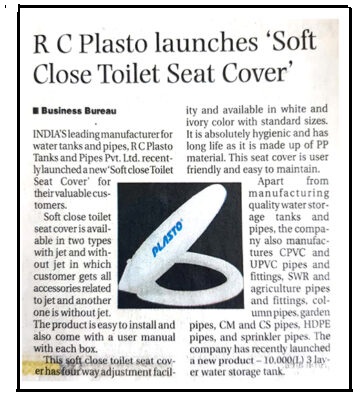 Business Bureau: INDIA'S leading manufacturer for water tanks and pipes, R C Plasto Tanks And Pipes Pvt. Ltd. recently launched a new 'Soft close toilet Seat Cover' for their valuable customers.
The soft-close toilet seat cover is available in two types without a jet in which customer gets all accessories related to jet and another one is without the jet. The product is easy to install and also comes with a user manual with each box.
This soft close toilet seat cover has a four-way adjustment facility and available in white and ivory colour with standard sizes. It is absolutely hygienic and has a long life as it is made up of PP material. This seat cover is user friendly and easy to maintain.
Apart from manufacturing quality water storage tanks and pipes, the company also manufactures CPVC and UPVC pipes and fitting, SWR and agriculture pipes and fittings, column pipes, garden pipes, CM and CS pipes, HDPE pipes, and sprinkler pipes. The company has recently launched a new product – 10,000(L) 3 layer water storage tank.