5 Things you must know about HDPE pipes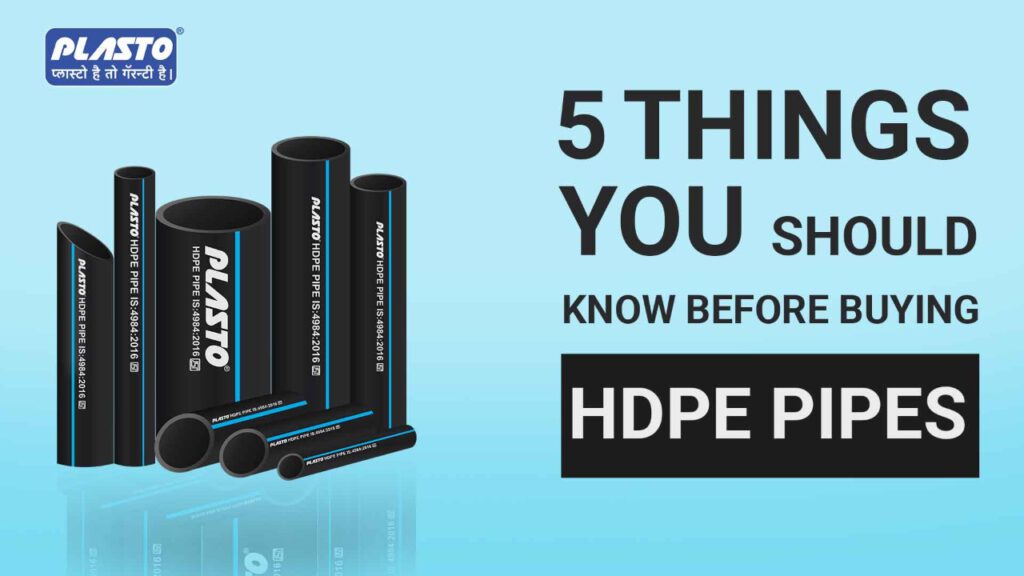 High density-polythene pipe also known as HDPE pipe got into limelight for its high demand in agriculture, municipal and industrial water applications. It is the most used plastic material today. PE pipes come in various density ranges starting from very low density, cross-linked, ultra low molecular weight, high molecular weight, medium-density, ultra-high medium-density & linear low- density. There isn't much difference in the density of higher density polythene and lower density polythene. The density of HDPE can vary between 920 to 970 kg/m3. This blog will help you get a quick understanding regarding HDPE pipes:
Let's get this basic understanding regarding the difference between HDPE pipes and PE pipes. Are these both the same?
This has been a topic of contention whether these two are different or not. HDPE pipe is among the many classifications of PE pipes. PE pipes can be divided into Low Density Polyethylene Pipe (LDPE), Medium Density Polyethylene Pipe (MDPE) & High Density Polyethylene pipe (HDPE). HDPE pipe has higher molecular weight making it more wear resistant.
Polyethylene plastic pipe (PE) is one of the most basic with excellent chemical resistant properties used in areas of industrial and domestic water while HDPE pipes or high Density Polyethylene Pipes have characteristics that makes it the most preferable choice for agriculture, Domestic and Industrial requirements.
Below mentioned are the 5 major insights about HDPE pipes that will help you to get a decent information about HDPE pipes and its applications in various agriculture water requirements:
HDPE Pipes are Known For its Leak-free feature.
Let's first know how two HDPE pipes are actually connected. The most common way to connect two HDPE pipes is through "BUTT FUSION " also termed as butt welding. Out of the many benefits of butt fusion is that, when fused together, it can form a one piece fully welded pipeline that helps in the easy flow of fluid and can withstand any pressure. The other ways are electrofusion, socket welding, extrusion welding but the most common is the butt welding. This way of interconnecting two pipes leaves behind no chances of leakage.
HDPE is not only easy to install and cost effective but rarely requires any maintenance.
HDPE pipes have a rapture prolongation of more than 500% and can withstand earthquakes & landslides without getting affected. HDPE pipes, when installed properly, can withstand both traffic pressure as well as the soil pressure. These pipes have high abrasion qualities making it the most suitable choice for industrial piping systems. HDPE pipes are lightweight pipes that are fused together making it easy to maneuver. Being compatible with extreme weather conditions, HDPE pipes require less maintenance charges and overseeing activities. Iron pipes corrode whereas plastic pipes break because of which the regular visit and maintenance of these pipes becomes a necessity.
HDPE pipes are among the best budget-friendly innovations with extended service life.
Preferring to pipes that last long and are pocket-friendly generates a lot of value in the infrastructure sector. With very low maintenance cost and easy to install features, these pipes have become the best cost-effective option. The service life of HDPE pipes is estimated to be between 50-100 years depending on the installation, usage and design of the pipes making  them ideal for agriculture, industrial & petroleum requirements. Iron pipes and plastic pipes generally get affected due to extreme pressure and corrosion.
HDPE pipes are passive to chemicals.
Today various industries have moved towards HDPE pipes because of its chemical resistant applications. Metal pipes are being replaced by HDPE pipes to carry various fluids and gas. HDPE pipes offer an unmatched chemical and corrosion resistance. Being non-corrosive, HDPE pipes are most acceptable in hostile environment conditions and can be used in saline environments. The flint water crisis can't happen if the pipes aren't capable of leaching lead in the water.
HDPE pipes are referred to as the best sustainable option and are ecological.
When compared to other pipes, HDPE pipes are easily recyclable and are highly biodegradable. HDPE pipes, these days are made from recycled materials where pre-consumer material. The energy required to produce HDPE pipes is minimal when compared to other pipes. Manufacturing HDPE plastic requires only a fraction of the energy making it an Eco-friendly choice. Owing to its properties of being non toxic and inert, HDPE is non- hazardous for transportation of portable water. It generally takes   HDPE pipes, known as the most ecological plastic as it does not generate & releases harmful fumes into the environment.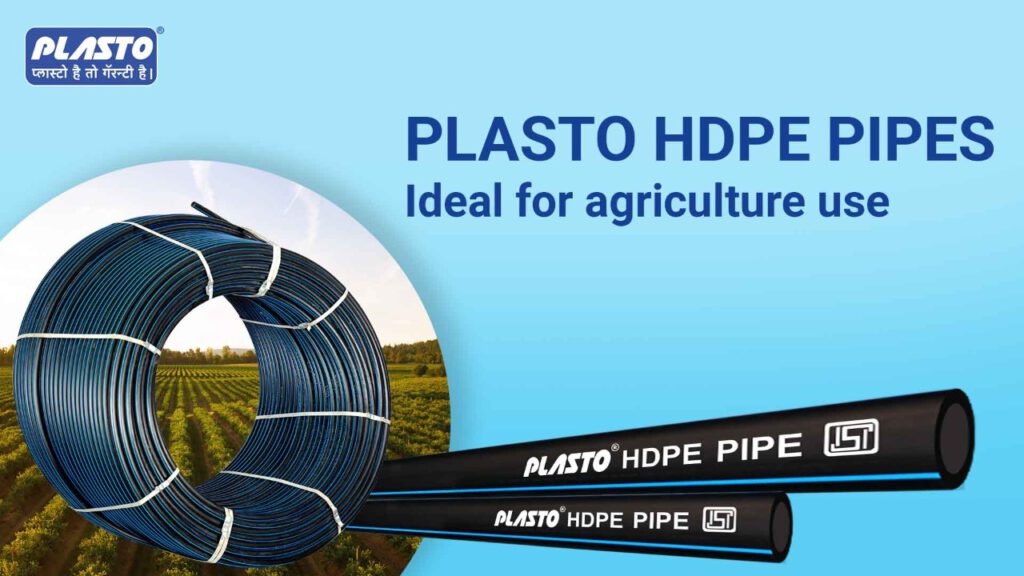 Final Thoughts:
HDPE pipes are in high demand because of its versatile material that stands to the expectations for all the water utilities across the nation. Choosing pipes for agriculture, industrial and domestic water requirements becomes an important decision that can have a long term impact on any project or on any agricultural land. Selecting HDPE pipes from a reputed brand really helps to get the optimal benefits of HDPE pipes. This blog will help you to get a quick understanding about the HDPE pipes. To get a quote about your water utility requirements, feel free to reach out to us.