Sprinkler System In Irrigation
What is the Sprinkler Irrigation System?
A sprinkler irrigation system uses a pump to apply water under high pressure. It disperses water through small diameters in the pipes in a manner similar to rainfall. Water is typically distributed via a network of pipes via a pumping mechanism. It is used in gardens, landscaping and effective to cover areas that are far to reach.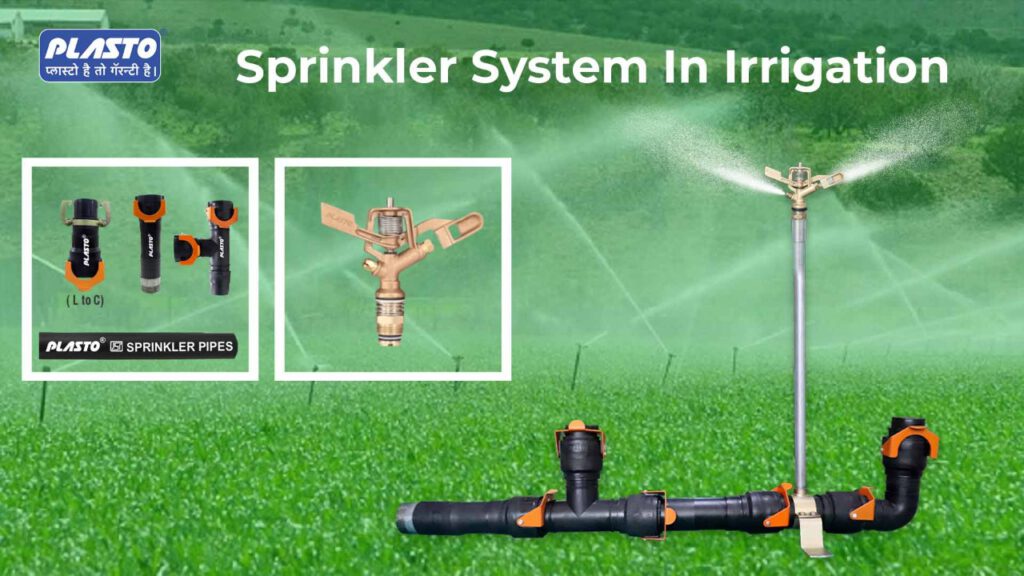 Sprinklers provide effective coverage from small to large areas and are suitable for all properties. There are various types of pipes but the most commercially used are the HDPE or High Density Polythene Pipes that are known for their lightweight property and can be easily repaired. HDPE pipe fittings are used to make HDPE sprinklers that cover a wider area.
If you consider a specific locale like Maharashtra, there are numerous pvc pipe manufacturers in Maharashtra that offer high quality pipes that have greater durability.
Now that we know about what sprinkler systems are, let us see the components that are involved in making the sprinklers.
Elements of Sprinkler Systems
Pump Unit-It draws water from a source and generates pressure for discharge into a pipe system. The pump must provide adequate pressure so that the water is discharged at the optimal rate and volume for the crop and soil type.
Principal pipes and secondary pipes which carry water from the pump to laterals. Pipes are installed on the soil surface or buried below the land surface. The Agro- Sprinkler has pipes fitted in a feasible manner so that the crops receive an adequate amount of water.In most cases, the entire apparatus can be transferred to a different field. The primary materials used for pipes include ceramic, plastic, and thermoplastic materials used to make HDPE sprinklers.
Water is transported through laterals from pipes and sprinklers. These are alloy materials composed of aluminum and plastic that can be easily moved around.
Sprinklers are the water emitting devices that transform and disperse water jets into droplets and spray it around the field.
Sprinklers made from CPVC (Chlorinated Polyvinyl Chloride) pipes are among the best. They are versatile and can be used in plumbing activities as well.
Now that we know the basic elements of Sprinklers, let us see the advantages of Sprinkler System in irrigation
Advantages of Sprinkler Irrigation System
Sprinkler systems have numerous advantages and are the most widely used irrigation system. These are the few advantages that you should consider before installing a sprinkler system.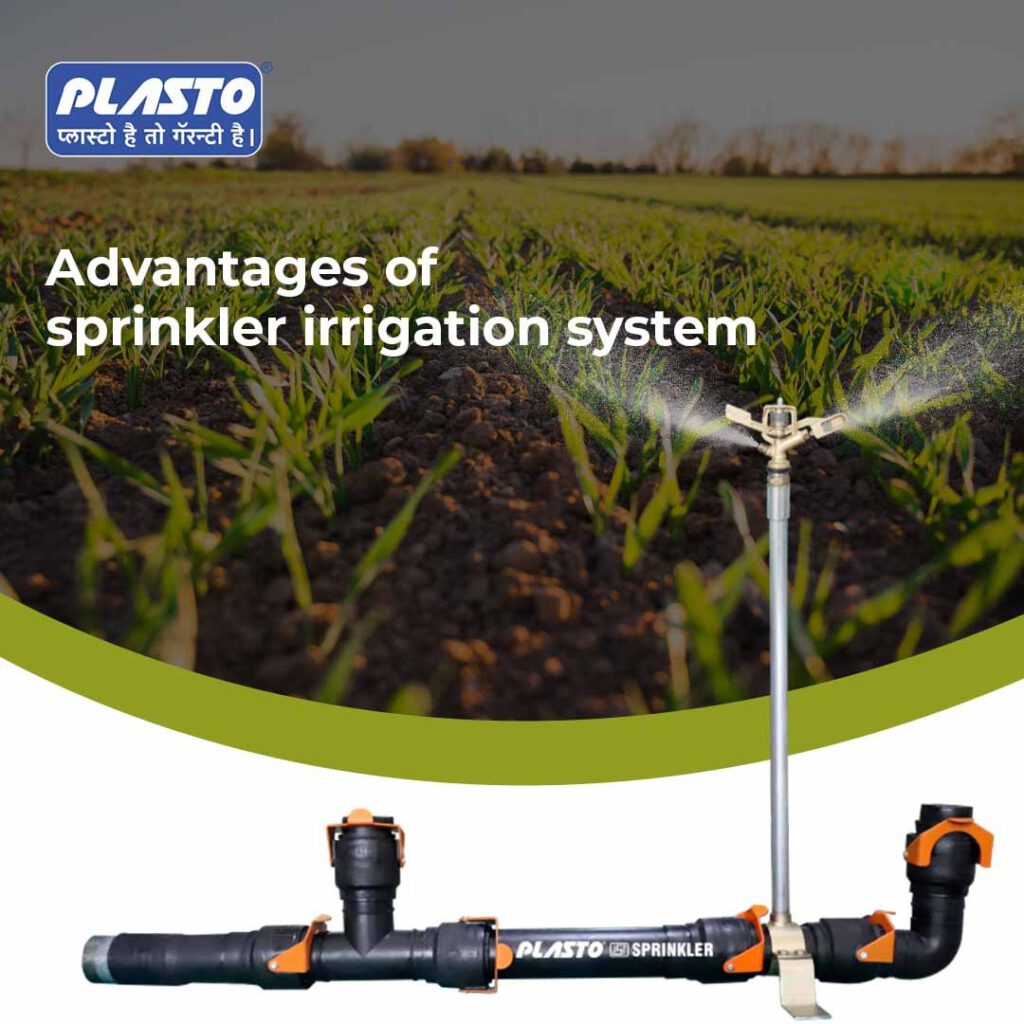 Except for hard clay, it is good for all types of soil.
Saves upto 30% to 50% water supply
It is ideal where plant population per area is considerably high
Will help you drastically increase your yield
It gives a boost to the overall production of crops
It can be easily set up with less hassle
You can use manure and fertilizers in a constructive manner
It also provides frost protection
You can easily cut down the labor costs
It can easily be used in any demographics
It also saves lands as bunds are not required
The most important benefit being that it reduces the compactness of the soil
Every system has disadvantages, let us see the drawbacks of Sprinkler systems in irrigation
Drawbacks of Sprinkler Irrigation System
The most significant disadvantage of the Sprinkler system is that it is influenced by weather conditions, water availability, and cost. Even a modest breeze might cause the sprinkler system to shut down or lose performance.
The sprinkler system may evaporate water at a faster rate when working at a greater temperature. The supply of pure water is limited in some areas, which may obstruct the irrigation process. Given the usual irrigation channel, the installation cost may be significant.
The Mechanical Sprinkler Irrigation might not be feasible with irregular water supply. Limited resources will drive the yield less so it is crucial to use this system in land with abundance of water.
How to choose an ideal Sprinkler System for you?
It's usually preferable to obtain professional help with this, as the irrigation system's specifications may vary depending on your field. When it comes to selecting a quality sprinkler, there are many options available, but it is better to choose one that is tailored to your specific needs. Sprinkler systems come in a variety of shapes and sizes, from hand-held sprinklers to big-gun sprinklers that travel. It is dependent on your needs and how big your field is.
Conclusion
It is critical to conduct extensive research on all sprinkler system manufacturers and select the one that best meets your needs. It is best to choose an economical irrigation system that is not only cost effective but also has a high-quality pumping mechanism.