Things To Remember Before Buying Best Water Storage Tank
Drinking water is a basic need, and it is frequently stored in a water tank. Thus, Water tanks are an essential part of our daily lives. One must, therefore, know everything about the water storage tank before selecting one for your home. Water storage tanks come in all shapes, materials, Durability, strength, and sizes.
Drinking water can be stored in plastic tanks as they are made of food-grade polyethylene and shielded with ultraviolet (UV) filters. Compared to steel or concrete tanks, these tanks are lighter, cheaper, and easier to install. Therefore, they are ideal for storing water. Also called PETE tanks, they are better in terms of cost, maintenance, and safety than tanks made of other materials like concrete or metal.
Plasto is recognized as a leading brand by consumers in the water storage tanks segment. While purchasing a water storage tank, several factors must be considered, from its capacity to the material it is made of, to the color and shape it has:
Here is a checklist for your plastic water storage tank:
1. Storage Capacity:
The most important aspect of the water storage system is the capacity of the tank itself. It completely depends on the number of people using water for all of their daily needs in terms of drinking, cooking, cleaning, and washing. Indian Standard code states that 135 liters are required per person per day for daily use. Therefore, 650 liters of water is needed every day for a family of four. Thus, a small water tank can suffice for a household of four. For large families, the use of large plastic water tanks is always recommended.
So, one can buy either a small, medium or large tank as per the requirement at Plasto, a leading water tank supplier in Central India.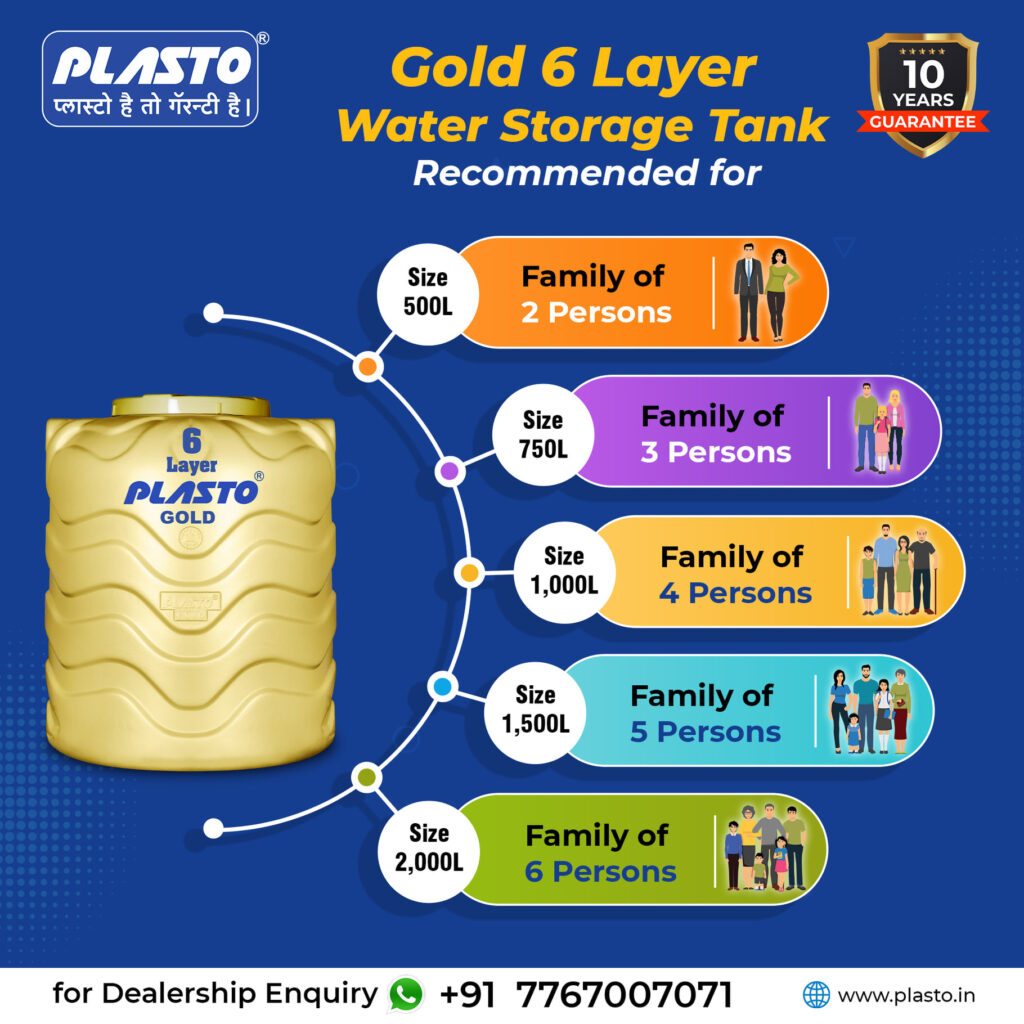 2. Durability
A water tank's durability is an important consideration, as it needs to be sturdy and strong in order to withstand temperature changes, environmental changes, and animals like Monkey menace. Material for the tank should be specific linear polyethylene with a certain density that ensures good strength and can withstand existing threats such as temperature changes, or other environmental effects, as well as preventing leaks. The lid of the water tank is equally important for preventing dust and other pollutants from contaminating the water.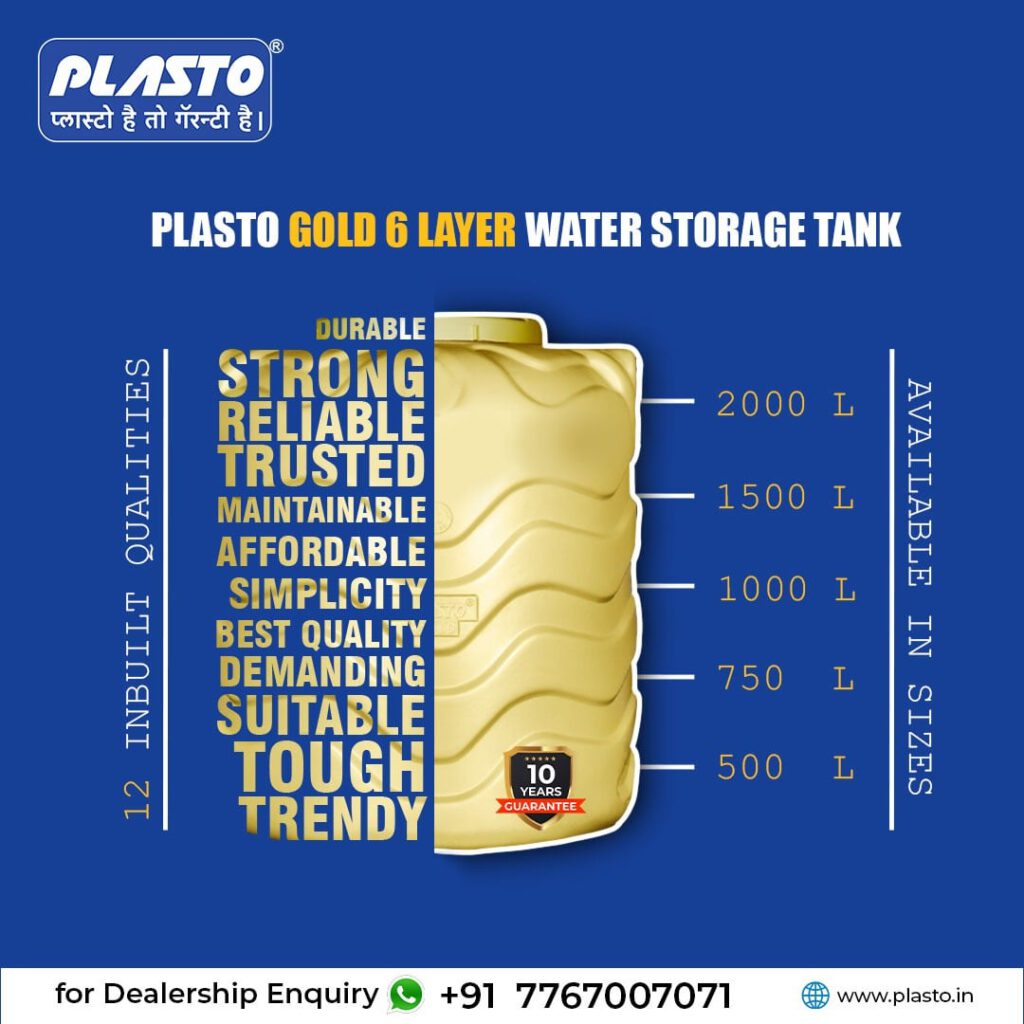 3. Material
Drinking water storage tanks should be safe & toxin-free and when it comes to safety you must go for high-quality food-grade plastic tanks or BPA-free tanks that are free from chemical reactions and have anti-bacterial properties.
4. Shape
Different water tanks have different sizes and shapes, like square, cylindrical, rectangular, and spherical, so pick one that is easiest to store. You can choose any tank you like, however, it is advisable to choose a tank that will fit the available space where it will be located. Tanks in the form of rectangles and squares can be fitted into corners to maximize space. Cylindrical tanks are more suitable for large areas.
Plasto tanks are specifically designed to fit any available space and capacity.
5. Installation:
Tank placement affects water pressure, which can then affect the supply of water. Overhead tanks serve to supply daily water needs. On the other hand, underground tanks and tanks placed at ground level accommodate emergency water storage in case of water shortages.
6. Colour
Colour is an important factor in preventing algae growth in water storage systems. In light-colored plastic water tanks, sunlight may penetrate, causing algae to grow. Most people prefer dark-colored water tanks because they do not allow sunlight through, thereby preventing algae and other microbes from growing. With half our country is in the tropical zone, Plasto recommends going for a dark-colored overhead water tank.
7. Brand
The brand is the most important factor when buying a water tank because 'Brand' means 'Reliability'. Buying a tank of a well-known brand means buying the perfect tank in all aspects because reputed brands are certified manufacturers and have government approvals.
8. Layers
While considering the drinking water storage, layers for material are an important factor. There are double layer and triple layer water tanks, and in some cases, there are more than three layers tanks are available on the market. The multiple layers of the tanks help prevent UV rays from penetrating the tanks. The number of layers helps you choose the right water tank for your home.
9. Water Quality
A toxin-free plastic material should be used to make drinking water storage tanks since it is considered safe for water storage. Though most cities have treated water and most households have reverse osmosis purifiers, it is still wise to invest in a storage tank that can safely hold drinking water. Plasto's tanks are made of FDA-compliant.
Conclusion
While buying a water storage tank, there are a number of factors you need to consider. You should consider its dimensions, quality, color, and shape. The Plasto Group is one of the leading manufacturers and suppliers of water tanks in India. Our team consists of highly experienced engineers and professionals that create advanced water storage systems using premium components and technical standards. Our water storage solutions satisfy the needs of domestic, industrial, and agricultural customers.
Ensure that the brand you choose has quality checkpoints and values customers' needs.